Round Kotatsu
Informations
Price
70
Size
Fit
4
Type
Heating
Cats
The Round Kotatsu is a Heating type goody that can be purchased at the Shop.
It has been added in Patch Ver. 1.9.0.
Description
Shop Description

A round-shaped kotatsu. It warms up quickly with a heater fan and an inner blanket.
Goody Description

The blanket is thin, but it still retains heat well. Taller table-legs enable easier entry.
Trivia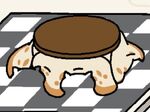 A glitch sometimes occurs on this goody when the cats appear invisible.
The Round Kotatsu is the most expensive goody that can be bought (with gold fish) in the Shop along with the Sunken Fireplace.
Variations