| | |
| --- | --- |
| | This page is under construction! |

Mii
is an unique cat that only appears in the
Game Menu
. Therefore, it is not a collectable cat.
They were added in the game as a tribute to the Japanese movie Teacher and Stray Cat // 先生と迷い猫 (Sensei to Mayoi Neko) released in Japan on October 10, 2015.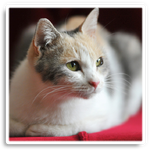 Born in 2010, in a farmhouse along with her brother and two dogs, Drop belongs to the
Sasaki Animal Production
. She's a female Japanese tortoiseshell cat.
Teacher and Stray Cat
Edit
Kyoichi (Issey Ogata) is a former principal. He lives alone now after the death of his wife. When his wife was alive she liked to feed a stray cat named Mii (Drop). Kyoichi, though, doesn't like Mii coming around his house and standing in front of the Butsudan Butsudan (Buddhist Altar).
One day, Mii suddenly stops appearing at Kyoichi's house. Kyoichi begins to worry about Mii and tries to find the cat. While searching for the cat, he discovers that there are other people also looking for Mii.
Ad blocker interference detected!
Wikia is a free-to-use site that makes money from advertising. We have a modified experience for viewers using ad blockers

Wikia is not accessible if you've made further modifications. Remove the custom ad blocker rule(s) and the page will load as expected.