" Cats leave fish to say thanks for your hospitality. Some cats may even leave special gold fish! Use these fish gifts to buy more goodies. Note: The Gift menu has a 100 gifts limit. Once you pass this limit, older gifts will be automatically accepted to make room for new ones. "
- Neko Atsume's official info
Fish and Gold Fish are the currency in Neko Atsume, and are used to purchase Food, Goodies, and Wallpapers. Players earn fish after a Cat has played in their Yard. An alert "Gifts Await" will appear on the Yard interface when fish or Gold Fish has been left behind. Players can also accept their Gifts from the Gifts tab in the Game Menu. Up to 100 Gifts may be stored uncollected; additional Gifts will cause the oldest Gifts to be automatically accepted.
Gold Fish are typically more uncommon than Fish, and are hence considered more valuable. Players may Exchange Fish for Gold Fish and vice versa at the Shop.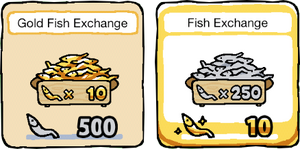 Gold Fish may also be purchased with real money in denominations of 50G; 120G; 200G; and 300G. Prices may vary depending on the country the player is in.
Daily Password
The
Daily Password
can be found at the
NEWS tab in the Game Menu
. Every day, the player can enter the password in the
Connect
feature of the
Other
tab.
By entering the Daily Password, the player will get some free Fish or Gold Fish. This may be done once a day as the password changes everyday. The amount and type of Fish varies daily, and it is possible to get both Normal and Gold Fish at once.
For each Daily Password sent, a stamp will be gained. After every 5 stamps, the player will be presented a bonus: a can of Ritzy Bitz!
Even if a day is missed, the stamp card will not reset, and the stamps will continue to be registered from where the player left off.
Bear in mind, the Daily password resets according to Japan's timezone (UTC+9). Make sure to check back at the right time for your timezone.
Trivia
Ad blocker interference detected!
Wikia is a free-to-use site that makes money from advertising. We have a modified experience for viewers using ad blockers

Wikia is not accessible if you've made further modifications. Remove the custom ad blocker rule(s) and the page will load as expected.